Engine speed independent cooling
Integrated cooling fan controller
No more overheating at engine idle
No thermostat necessary
Quick and predictive control algorithm
Delayed shutdown
LED warning system and safety functions
Beta: PWM fan control (Mercedes/SPAL/etc.)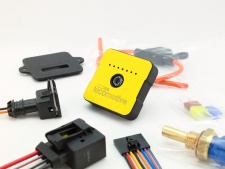 An automotive controller for Pierburg's electric water pumps
CWA50 / CWA100 / CWA150 / CWA200 / CWA400

... used by many OEM's such as BMW, Audi, VW, Porsche, Mercedes Benz ...
The Tecomotive "tinyCWA" is able to control all CWA type electric water pumps (eWP) in the appropriate manner.
It is suitable for cars or any other thing where smart cooling is required.
When activated the controller is measuring the current coolant temperature and the rate of increase with the connected
temperature sensor.
With this data it then calculates the appropriate water flow and sends a signal to the pump where the internal pump electronics then set it to the right speed. This way you will always have the right pump speed for any circumstances.
We developed this product with very special attention to quality, operational safety, ease of use and a very nice appearance.
The compact and anodized aluminum case measures only 44x44x12mm. (1.7x1.7x1/2inches)
You can find more precise information about the operation, installation and use in the manual linked below.
Information:
Features:

Simple to set up with only one rotary switch
Choose your favorite target temperature from 15°C to 100°C (59°F to 212°F)
LED display shows the current pump speed or rough coolant temperature
Compact and robust anodized aluminum case
Relay output for the radiator fan (recommend to use)
Delayed shutdown of the pump and the fan after ignition turned off
Manually control the pump speed (e.g. for bleeding or testing)
LED warning system and various safety features
New in 2021:

New EV operating mode
Improved temperature indication via the LED
(The middle LED now corresponds to the selected target temperature)
Possibility to choose between several sensor characteristics
(to use your own temperature sensor)
More on this in the current manual.
Contents:
tinyCWA controller
Fuse holder
Fuses (7,5A/15A/20A/40A)
Connector 8 pin (controller)
Connector 3/4 pin (water pump) (standard: for a CWA200 pump)
Connector 2 pin (temperature sensor)
Temperature sensor with M12x1.5 thread size
Set of screws for controller mounting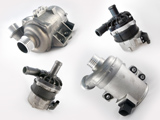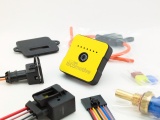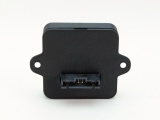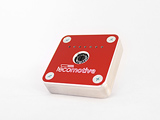 Download:
(Current operating instructions)
Tecomotive "tinyCWA" manual (pdf)
(Archive)
Older manuals
The electric water pumps from Pierburg
The Pierburg CWA200 was one of the first electric water pump for line production introduced by BMW in 2004.
They and others are now widely available in the aftermarket and got many advantages over conventional mechanical pumps.
Some of which are the freedom of installation and the independence of engine revolutions.
Also the pumps are very well built and with its brushless canned motor they are practical maintenance free.
Pierburg CWA50
Name: "Pierburg CWA50"
Supply voltage: 8-16 Volt
Current consumption: max. 6,5A in operation and 0,2mA in standby mode
Differential pressure: 0.55 bar
Flow rate: 25l/min @ 0.6bar / 35l/min @ 0.3bar
Protection: IP67
Part numbers: Pierburg - 7.06033.11.0 / 7.06033.15.0 / 7.06033.44.0 / 7.06033.31.0
BMW: 11517566335 // Audi: 4F0965569 / 8K0965569 // VW: 7P0965567 // Porsche: 95860656700
Pierburg CWA100
Name: "Pierburg CWA100"
Supply voltage: 8-16 Volt
Current consumption: max. 13,5A in operation and 0,2mA in standby mode
Differential pressure: 0.85 bar
Flow rate: 30l/min @ 0.85bar / 40l/min @ 0.65bar
Protection: IP67
Part numbers: Pierburg - 7.06754.05.0 // Mercedes: A 000 500 04 86
Pierburg CWA150
Name: "Pierburg CWA150"
Supply voltage: 9-16 Volt
Current consumption: 15A max. / (I < 100mA in standby mode)
Differential pressure: ≥ 1.40 bar *
Flow rate: approx. 25 l/min @ 1.40bar / 40 l/min @ 0.80bar
Protection: IP54
Part numbers: Pierburg - 7.09578.00.0 // VW: 4KE965567B
Pierburg CWA200
Name: "Pierburg CWA200"
Supply voltage: 8-16 Volt
Current consumption: max. 16,5A in operation and 0,2mA in standby mode
Differential pressure: 0.45 bar
Flow rate: 116l/min @ 0.45bar / 166l/min @ 0.30bar
Protection: IP67
Part numbers: Pierburg - 7.02851.20.8 / 7.00294.17.0 / 7.02478.40.0
BMW: 11517586924 / 11517586925 / 11517586929
Pierburg CWA400
Name: "Pierburg CWA400"
Supply voltage: 8-16 Volt
Current consumption: max. 36A in operation and 0,2mA in standby mode
Differential pressure: 0.85 bar
Flow rate: 150l/min @ 0.85bar / 220l/min @ 0.55bar
Protection: IP67
Part numbers: 7.03665.66.0 / 7.02881.66.0 // BMW: 11517604027 / 11517596763
Advantages of electric water pumps:
The best benefit for aftermarket and motorsport application would be the freedom of installation and use.
You can mount the pump practically anywhere (yes even in the trunk) and it is completely independent of the engines revolutions.

Most of the cooling power is needed when the car is idling around in a complete standstill.
Sadly that's the situation where a mechanical water pump got its least amount of power.
So most of the time a conventional pump is oversupplying the engine with coolant flow.

The eWP however can deliver the right amount of flow at any time it is needed.
(Only of course with the right controller that regulates the power in a smart and efficient way) ;-)
Pump supply:
We will gladly provide you with a pump in addition to the controller.
Just write us an email in this matter or take a look at our online store. :-)